Fully Licensed and Insured
Here at Black Bear Electric, the best electrical contractors in Aurora, we are fully licensed electricians that can help with all kinds of electrical services. Our master electricians have years of experience and our Aurora electrical company is fully insured, giving you the peace of mind you deserve no matter what kind of electrical project you need help with. When you need the best electrical services for your Denver area home or company, then Black Bear Electric are the local electricians for you. Here at Black Bear, we're all about safety as well as fast and highly efficient work. Keep scrolling to get some tips about proper electrical safety, how to find the right electrical contractor, questions to ask when looking for an electrical contractor, and more.
Be sure to learn more about our electrical services, or contact Black Bear Electric to schedule your electrical inspection today.
ONE OF THE FIRST STEPS IN PROTECTING YOU HOME FROM POTENTIAL ELECTRICAL PROBLEMS IS TO UNDERSTAND WHAT IS INVOLVED IN YOUR HOME'S ELECTRICAL SYSTEM. HERE ARE SOME OTHER STEPS THAT A HOMEOWNER CAN TAKE TO HELP ENSURE THE SAFETY OF THEIR HOMES AND FAMILIES.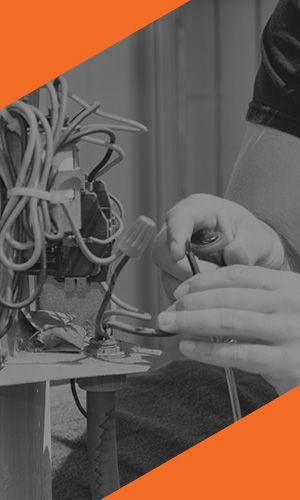 1. Be aware of where you are using extension cords and use them properly. For example, never cover up an extension cord with floor coverings, furniture or window treatments. The reason for this is that extension cords are rated for open air use. Also, just because an extension cord has six or more receptacle doesn't mean that every one needs to be filled. Extension cords are rated for a specific number of watts. This means that all the items together should not exceed the wattage rating for the extension cord. Please, use extension cords with care and for a temporary length of time. They are not meant to be a permanent solution for wiring or other electrical services.
2. Be familiar with the light fixtures used in your home and only put bulbs in them that have the proper wattage rating that is recommended by the manufacturer. If you put a bulb in a fixture that exceeds the wattage recommendation then the fixture's wiring can burn up, causing a fire hazard. Using a local electrician to help manage your home's light fixtures is highly recommended if you're unsure of what kind of bulb to use in your light fixtures.
3. Some indicators of minor electrical problems are flickering lights, outlets that work sporadically, circuit breakers that frequently trip, loose wall outlets and bulbs that frequently blow out. If these problems are not rectified quickly, they can lead to much larger problems. These smaller problems may also be indicators that there is a more serious electrical issue present, such as poor grounding or wiring that was installed improperly. A certified electrician, like Black Bear Electric, will be able to help find the source of your electrical issues safely and effectively
4. Some other things to be alert for is heat coming from electrical components, the smell of burning rubber or plastic, the sound of humming or sizzling coming from electrical components. These signs are additional indicators that something has gone wrong with your electrical wiring. If you notice any of these issues, be sure to contact your local electrician as quickly as possible to set up an inspection.
5. Be sure that you know the location of the breaker panel as well as the main shut-off to your electrical system for your home. The control panel should be well labeled and identify each circuit for each circuit breaker. The main shut-off may be located outside at the meter. If something is amiss with the system, everything can be shut down here. Panels need to be accessible at all times. Setting up an electrical inspection from a residential electrician can help you keep your home safe from electrical issues.
KNOWING THE BASICS IS ALL YOU NEED TO BE BETTER EQUIPPED TO KEEP YOUR HOME WIRED AND WORKING WELL.
HERE ARE SOME THINGS TO CONSIDER WHEN MAKING A DECISION ABOUT A PROSPECTIVE ELECTRICAL CONTRACTOR.
Verify the company is a legitimately registered company with the state.
Verify that the contractor is properly licensed. Electrical contractors must have a license in order to obtain the permits needed for projects.
Verify that the contractor is properly insured.
Ask for a list of references. Be sure to contact each reference to find out the level of satisfaction they had with the work performed.
When you need the best electrical services in Aurora, be sure to partner with Black Bear Electric. Contact us to set up a residential electrical inspection today.
QUESTIONS TO CONSIDER WHEN CHOOSING AN ELECTRICAL CONTRACTOR
Will they listen to the things you want to incorporate in your project and try to abide by them?
Will they comply with national, state and local codes?
Can they provide you with a list of professional references?
Do they have continuous training for their technicians?
Will they give you a guarantee in writing?
Does the contractor have enough insurance to cover your losses in case something should go wrong?
Does the contractor drug test and screen its employees?
Contact Black Bear Electric to answer any questions and see why we're the best electrical contractors in Aurora!
MAKING THE RIGHT CHOICE
Making a choice on which local electrician to use is not easy, but if you find that one electrical contractor meets your requirements, then you should trust your judgment. When choosing the right electrician for you, be sure to pick the electrical company that you feel most comfortable with. Here at Black Bear Electric, our fully licensed and insured electricians will work with you in order to help make your home safe and energy efficient as quickly as possible. We provide transparency from start to finish, and we'll work to keep you in the knowhow on everything we do. Learn more about our residential electrical services, view our online electrician gallery, or view all of the Aurora electrical services that we offer. Contact Black Bear Electric to set up your electrician services in Aurora today.
WE KNOW THAT YOU HAVE A CHOICE. IT'S OUR DESIRE THAT BLACK BEAR ELECTRIC, INC. IS YOUR CHOICE.
CONTACT US TODAY AND SO WE CAN HELP YOU WITH YOUR NEW ELECTRICAL PROJECT!